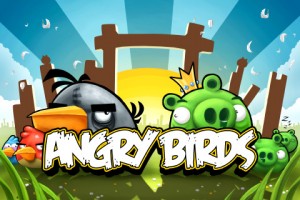 How can the act of slinging various animated birds toward animated pigs be the basis of a game that has taken the mobile gaming world by storm?
How can that same game be the one that I play almost every free moment I can find?
Angry Birds.
It's my addiction.
I confess – I play Angry Birds a lot. (And I mean A L-O-T.)
When I'm riding in the car.  Angry Birds.
When I'm waiting for a ride at Tae Kwon Do.  Angry Birds.
When I'm pretending to do home work.  Angry Birds.
I won't go into the disgusting details of the additional "when and where" I find myself spending time playing Angry Birds on my android phone, or my ipod touch.  Let's just say, it's "private time".
I know I'm not alone.
Many, many, many people around the world are fellow Angry Birds Addicts.
I'd like to hear your story.  When do you play Angry Birds?